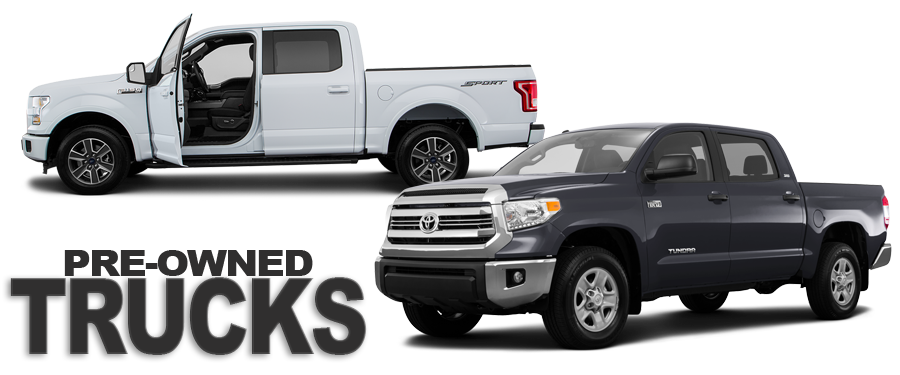 Used Truck Bargains Near
Dallas

,

TX

Used truck shopping presents its own set of challenges. You not only have to put quality and price on your list of key points to ponder, but also truck-specific things like bed length, cab configuration, towing and hauling capability, payload and performance. Finding the perfect blend of everything you're looking for in a used truck can feel like winning the lottery.

It happens every day for used truck shoppers at Pre-Owned of Plano. We stock a wide selection of used trucks from all your favorite brands - and all of them are priced to sell quickly! While none of our vehicles sticks around our lot for long, these trucks from big names like Chevrolet, Ford, GMC, and Toyota are snapped up especially fast by smart buyers in the Dallas area.

That's why, when you see a used pickup you like, you'll want to act fast. Stop by our conveniently located dealership to check it out in person and take it for a spin.
Affordable Used Trucks for Sale in Plano, TX
When you're shopping for a vehicle - used or new - the bottom line often comes down to price. At Preowned of Plano, we understand that you need every dollar to stretch to its maximum potential. We answer that need with low everyday prices and other savings opportunities you'll love.
From a low-interest loan to a special discount on one of the vehicles in our featured inventory, there are many ways to save when you shop Pre-Owned of Plano. And you can start ahead of the game by applying for financing on our website. That way, when you arrive at our dealership, you'll be ready to get right down to the fun part - test driving your favorite used trucks and finding out how much you can save.
Your Used Truck Awaits at
Pre-Owned of Plano
There's no time like the present to claim an amazing bargain on a used truck you'll love. Go ahead and browse our inventory online. If you don't see the perfect pickup among our current selection, no worries - not only do we have a steady stream of vehicles appearing on our lot all the time, we also offer a handy CarFinder tool. Simply provide a few specs on the vehicle you're hoping to find, and our associates will start searching on your behalf and let you know when we've found vehicles that match your preferred criteria! Used car shopping just doesn't get any easier than that.
We can't wait to add you to the growing crowd of happy customers at Pre-Owned of Plano!